SF/SFD SERIES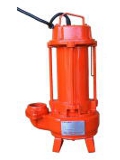 APPLICATIONS:
Community sewage disposal plants.

---

Water drainage of purifier tanks and sewage treatment plants, and drainage of industrial effluent containing suspended matter (paper, fibers, etc.).
FEATURES:
Free from clogging and entanglement of solid components.

---

Pump equipped with a disk cutter, providing excellent functionality

---

Excellent load resistance and durability for applications involving sewage water containing suspended matter.
SPECIFICATIONS
Performance Curve
SPECIFICATIONS

(0.4kW〜0.75kW)

Model
Discharge
Connection
Motor
Roted Capacity

Weight

kg

Cable lenge

m

mm
inch
kW
pole
Voltage
× phase
Frow rated
m3/min
Head rated
m
SF-400-2S
50
2
0.4
4
220 × 1
0.22
4
28
6
SF-400-4T
50
2
0.4
4
380 × 3
0.22
4
26.5
6
SF-12
50
2
0.75
2
380 × 3
0.3
3
29
6
SFD-400-2S
50
2
0.4
4
220 × 1
0.22
4
30
6
SFD-400-4T
50
2
0.4
4
380 × 3
0.22
4
28.5
6
SFD-12
50
2
0.75
2
380 × 3
0.3
3
31
6




SPECIFICATIONS

(1.5kW〜5.5kW)

Model
Discharge
Connection
Motor
Roted Capacity

Weight

kg

Cable lenge

m

mm
inch
kW
pole
Voltage
× phase
Frow rated
m3/min
Head rated
m
SF-22
65
2½
1.5
2
380 × 3
0.6
3.5
52
10
SF-23
80
3
1.5
2
380 × 3
0.6
3.5
54
10
SF-34
100
4
2.2
4
380 × 3
1
4
68
10
SF-54
100
4
3.7
4
380 × 3
1.4
6.5
125
10
SF-74
100
4
5.5
4
380 × 3
1.4
9
145
10
SFD-22
65
2½
1.5
2
380 × 3
0.6
3.5
58
10
SFD-23
80
3
1.5
2
380 × 3
0.6
3.5
60
10




SPECIFICATIONS

(7.5kW〜15kW)

Model
Discharge
Connection
Motor
Roted Capacity

Weight

kg

Cable lenge

m

mm
inch
kW
pole
Voltage
× phase
Frow rated
m3/min
Head rated
m
SF-104L
100
4
7.5
4
380 × 3
1.5
15
145
10
SF-106
150
6
7.5
6
380 × 3
3.1
8
220
10
SF-154H
100
4
11
2
380 × 3
1.7
20
150
10
SF-156M
150
6
11
4
380 × 3
2
17
210
10
SF-206M
150
6
15
4
380 × 3
2.4
19
225
10