KW/KWD SERIES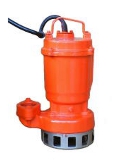 APPLICATIONS:
Community sewage disposal plants.

---

Purification tanks.

---

Sewage treatment.

---

Drainage of industrial effluent containing suspended matter (paper, fibers, etc.).
FEATURES:
Although small, this model is equipped with a shredder function which can cope with "clogging" and "entangling" of foreign matter, waste fibers, etc.

---

The impeller employed in this model is of a double-vane, semi-open, non-clog type which provides excellent hydrodynamic balance.
SPECIFICATIONS
Performance Curve
SPECIFICATIONS

(0.25kW〜0.75kW)

Model
Discharge
Connection
Motor
Roted Capacity

Weight

kg

Cable lenge

m

mm
inch
kW
pole
Voltage
× phase
Frow rated
m3/min
Head rated
m
KW-250-2S
40
1½
0.25
2
220 × 1
0.22
3
16
6
KW-250-4T
40
1½
0.25
2
380 × 3
0.22
3
15
6
KW-400-2S
50
2
0.4
2
220 × 1
0.22
5.5
19
6
KW-400-4T
50
2
0.4
2
380 × 3
0.22
5.5
17
6
KW-750-4T
50
2
0.75
2
380 × 3
0.21
10
18
10
KWD-250-2S
32
1¼
0.2
2
220 × 1
0.2
2
18
6
KWD-250-2S
40
1½
0.25
2
220 × 1
0.22
3
18
6
KWD-250-4T
40
1½
0.25
2
380 × 3
0.22
3
17
6
KWD-400-2S
50
2
0.4
2
220 × 1
0.22
5.5
20
6
KWD-400-4T
50
2
0.4
2
380 × 3
0.22
5.5
19
6
KWD-750-4T
50
2
0.75
2
380 × 3
0.21
10
20
6




SPECIFICATIONS

(1.5kW〜7.5kW)

Model
Discharge
Connection
Motor
Roted Capacity

Weight

kg

Cable lenge

m

mm
inch
kW
pole
Voltage
× phase
Frow rated
m3/min
Head rated
m
KW-22B
65
2½
1.5
2
380 × 3
0.85
4
46
10
KW-23
80
3
1.5
2
380 × 3
0.85
4
46
10
KW-33
80
3
2.2
2
380 × 3
1
6
50
10
KW-53
80
3
3.7
2
380 × 3
1.3
6
85
10
KW-54
100
4
3.7
2
380 × 3
1.3
6
88
10
KW-73
80
3
5.5
2
380 × 3
1.5
10
90
10
KW-74
100
4
5.5
2
380 × 3
1.5
10
93
10
KW-103
80
3
7.5
2
380 × 3
1.7
11
110
10
KW-104
100
4
7.5
2
380 × 3
1.7
11
113
10
KWD-22B
65
2½
1.5
2
380 × 3
0.85
4
49
10
KWD-23
80
3
1.5
2
380 × 3
0.85
4
49
10
KWD-33
80
3
2.2
2
380 × 3
1
6
53
10